Mersing its a small coastal around at the eastern side of Peninsular Malaysia. Mersing is the gateway to the beautiful Tioman Island. Tioman island is famous for its crystal clear water where you can enjoy diving and snorkeling around the island. And also, Tioman island resort only open from March to October and the remaining period will be closed due to monsoon season (November to February).  In order to get to Tioman island, you need to board the ferry from either Mersing jetty or Tanjong Gemok.
KKKL offers daily trip from Singapore to Mersing jetty and Tanjong Gemok jetty. For the return from Mersing jetty, customer are advised to wait at this pickup point as belows , you may look out for Mersing Harbour Centre, our pickup point is just opposite of Mersing Jetty. If you are not too sure about this landmark, you can look out for KFC this landmark, the Mersing Harbour Centre is just beside KFC. As there are plenty of seats inside Mersing Harbour Centre, hence, you can take a seats there or enjoy free wifi access at KFC and all are sheltered, hence, you do not worry about being drenched when it is raining. The journey from Singapore to Mersing is around 3 to 4 hours depending on the immigration clearance and also the traffic conditions. We will depart at 0600hrs from Kovan and 0630hrs from Bugis. We will use Woodlands and JB CIQ immigration as it is the nearest route to reach Mersing and Tanjong Gemok. Once all our customer has cleared the immigration at Johor Bahru Malaysia, our bus will go direct to Mersing without any stops in between. The journey from Mersing to Tanjong Gemok is around 30minutes, hence, once we have alighted our customer at Mersing jetty, we will start our journey to Tanjong Gemok jetty.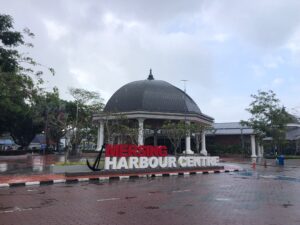 For return trip, our coach will pickup from Tanjong gemok and then will go to Mersing for pickup. So, if the ferry is delayed from Tanjong Gemok, it will affect the bus arrival time at Mersing. Hence, we always advised our customer to be patient to wait for the bus to arrive at Mersing.
All our coaches comes with USB charges and wifi on board, and we offered a comfortable super VIP bus with spacious seats for our customer to enjoy the whole journey.