KKKL Offer Convenient and Affordable Bus  from Singapore to Ipoh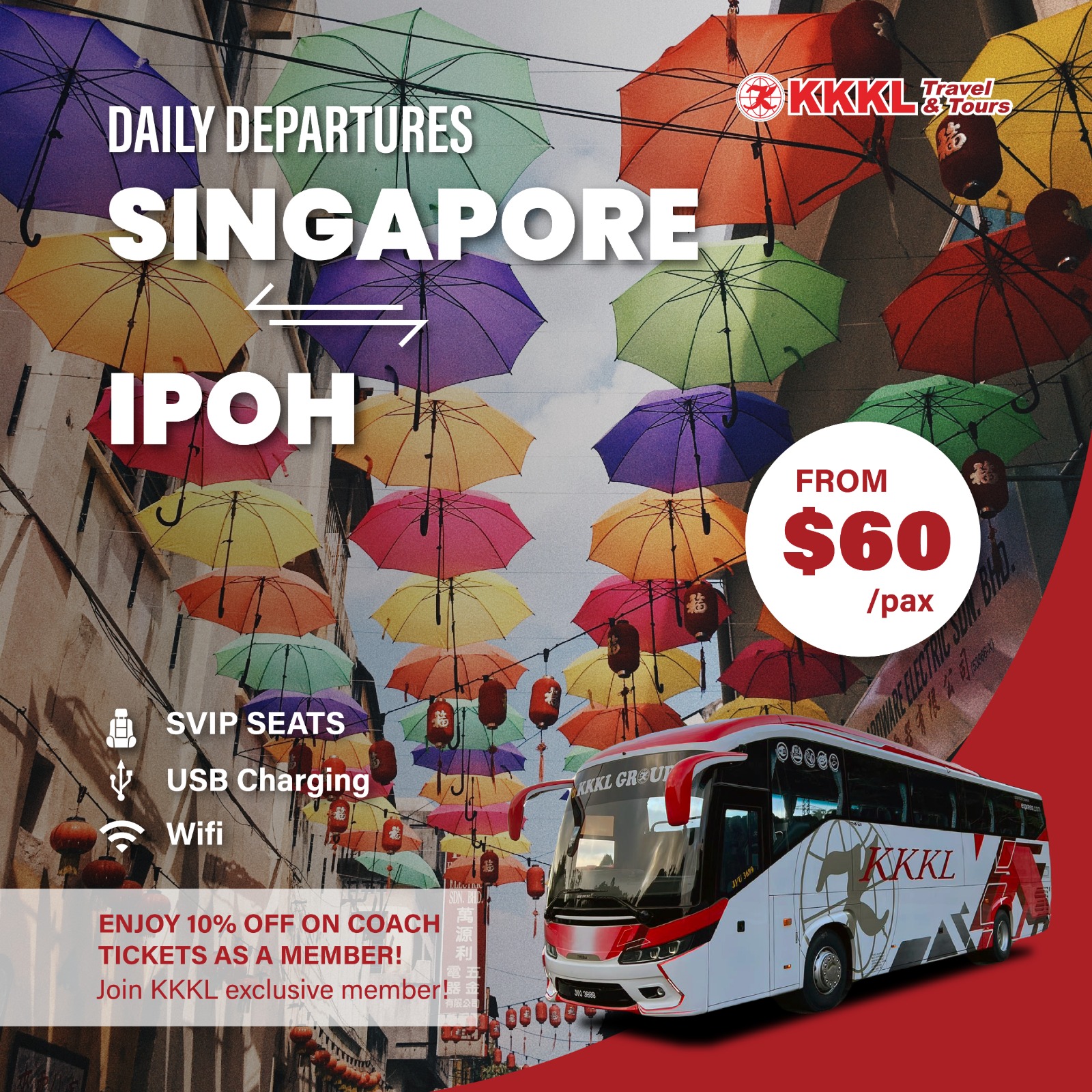 KKKL Travel & Tours offer daily bus service from Singapore to Ipoh. Singapore to Ipoh bus duration is around 8-9 hours, depending on the traffic and immigration clearance. We have 2 departure point, one is from Kovan, another one is from Katong V. We have only one departure per day, that is night time. If you were to depart from Kovan, the bus timing is 930pm, while Katong V is 10pm. Moreover, Our bus goes direct
Why should you choose KKKL for SG to Ipoh Bus?
KKKL is one of the most reputable express bus companies in Singapore and Malaysia, offering daily bus transportation from Singapore to various part of Malaysia. Domestically, we also offer express bus transportations within Malaysia.
Convenient Departure point: Two location, one is Kovan Hub and another is Katong V
Comfortable & Spacious bus: We offer 27 seater super VIP seats, with big room leg space, comfortable seats and you can enjoy a good rest during the journey from Singapore to Ipoh.
Competitive pricing: Compare to air ticket, taking bus is always the best way and most economical way for solo travellers or family alike.
Direct bus seamless travel: Our bus depart from Singapore and goes direct to Ipoh, stopping at the bus terminal at Aman Jaya bus terminal.
Why is there only night departure for bus to Ipoh from SG?
Traffic and Border Crossing Efficiency: Nighttime departures might be chosen to avoid heavy daytime traffic in both Singapore and Malaysia, especially at border crossings. This can result in quicker travel times and a smoother journey.
Passenger Convenience: Some passengers might prefer traveling overnight to maximize their daytime hours for other activities. It allows them to arrive in Ipoh in the morning, feeling refreshed and ready to explore the city. KKKL bus depart at 930pm from Kovan and 10pm from Katong V. You can have a good night sleep in the bus and arrive at the destination by 6am to 7am in the morning
Lower Temperatures: Nighttime travel can provide relief from the sweltering daytime heat, especially during the hotter months. Passengers may find it more comfortable to travel at night when temperatures are cooler. For those who are afraid of cold, please remember to bring a blanket or sweater to cover yourself during the journey
Additional tips for a smooth journey for Sin to Ipoh Bus.
Arrive at the departure point at least 30 minutes before your scheduled departure.
Bring necessary travel documents, including your passport.
Pack essentials like snacks, water, and entertainment for a comfortable ride.
Be prepared for border crossings and have your documents ready.
Bring blanket or sweater in case of feeling too cold in the bus
KKKL Travel & Tours bus schedule from Singapore to Ipoh
| Pick Up Point | Timing | Drop Off | Price |
| --- | --- | --- | --- |
| Kovan | 2130hrs | Ipoh (Aman Jaya Bus Terminal) | $60 |
| Katong V(Night) | 2200hrs | Ipoh (Aman Jaya Bus Terminal) | $60 |