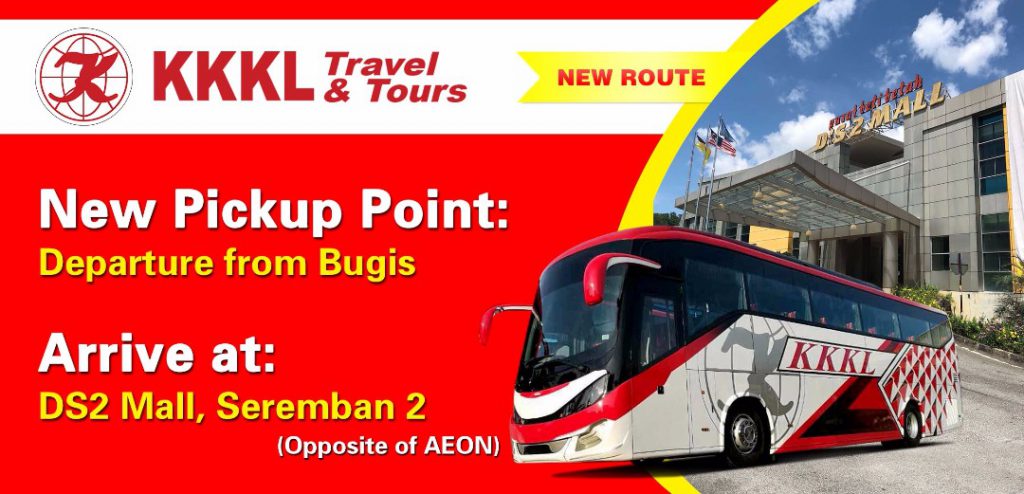 KKKL are pleased to announce that we will start running from Singapore to Seremban 2 and return from 1- July-2018 onwards. With the vibrant development of the new township at Seremban 2, we feel that it is important to provide a proper transportation from Singapore to Seremban 2 using bus. Our pickup point in Singapore is at Bugis MRT Exit D and the drop off point in Seremban 2 is at DS2 Mall, Seremban 2 (diagonally opposite of Aeon Jusco). For return, the pickup will be at DS2 Mall, you may wait at the entrance of the DS2 Mall and look out for KKKL bus. The journey from Singapore to Seremban 2 will take around 6 hours depending on the actual traffic condition and the immigration cross border status. There will be one toilet break along the way from Singapore to Seremban 2.
Our pickup timing and details as follows
Pickup Point

Destination

Pickup Timing

Price

Singapore
Bugis


Seremban 2

DS2 Mall

Seremban 2
DS2 Mall


Singapore
Bugis

0745hrs


1500hrs




S$36 


S$36 
** bus to run daily except Tuesday and Wednesday
Seremban 2 is a newly developed township. As Seremban has been congested with traffic and housing, the government of Malaysia decided to develop Seremban 2 to another vibrant township to reduce congestion in the main city center. In Seremban 2, there are 2 mega shopping mall which is the Jusco Aeon and Mydin, where the residence around this area can go to this shopping mall to shop what they want instead of going to the city centre. Hence, this initiative is one of the successful project from the Malaysia government to reduce traffic congestion and overcrowded housing estate.
Seremban 2 is located in between Kuala Lumpur and Malacca. Most of the resident in Seremban2 actually travel to Kuala Lumpur to work daily as the house is cheaper in this area. The journey from Seremban 2 to Kuala Lumput is around 45minutes drive and it is very much economical to stay there and travel to work. Over the weekend, the 2 shopping mall will be crowded with many resident for their weekend shopping and buying groceries.