From Singapore to Malacca by Bus: Your Comprehensive Guide with KKKL Travel & Tours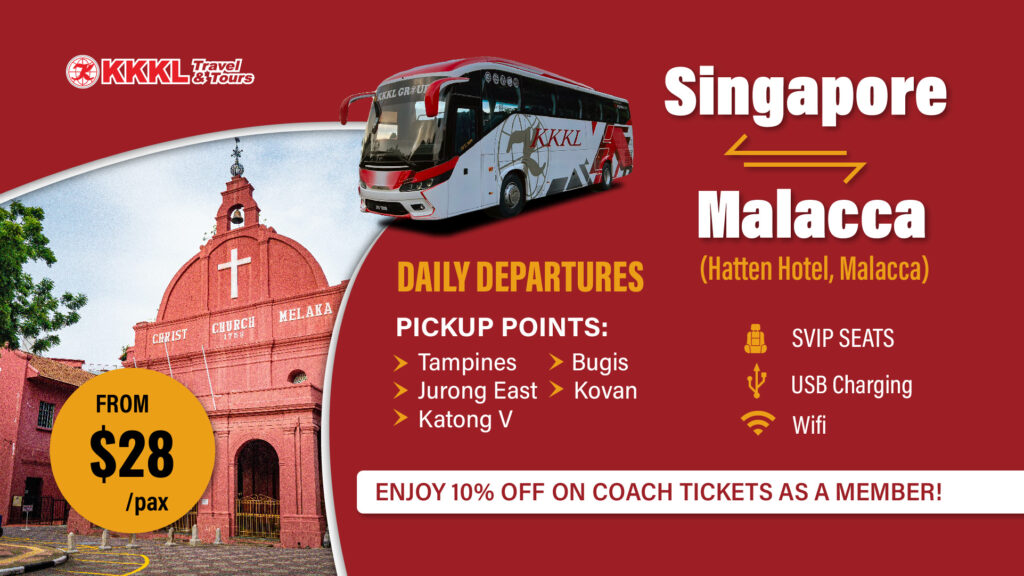 Malacca, a UNESCO World Heritage city, is a melting pot of culture, history, and delectable food. For Singaporeans and tourists in Singapore, a bus journey to Malacca offers a convenient getaway. With KKKL Travel & Tours, this journey becomes a delightful and comfortable experience. Here's all you need to know about taking the "bus from Singapore to Malacca" with KKKL.
The Premier Choice with KKKL Travel & Tours
KKKL Travel & Tours facilitates daily "Singapore to Melaka bus" services, promising affordability without compromising on comfort. Spanning an approximate distance of 239KM, the journey takes around 4 hours, though this can vary based on traffic and weather conditions. Catering to the diverse needs of passengers, KKKL offers a 27-seater bus, designed for comfort with spacious seating and ample legroom.
The drop-off points in Malacca are strategically chosen for convenience: Melaka Sentral bus terminal, Hatten Hotel, The Pines Hotel, and Casa Del Rio Hotel. With multiple departure locations in Singapore like Kovan, Katong V, and Bugis MRT, passengers are sure to find a spot close to them.
For travelers aiming to explore Malacca's historical heart, Hatten Hotel emerges as a preferred stop given its proximity to major attractions.
Boarding Locations in Singapore:
Things to Remember When You Travel From Singapore to Malacca by Bus:
Boarding Spots: KKKL offers multiple pick-up points for the "sg to Malacca bus", ensuring passengers find one that's convenient. These include Kovan, Katong V, and Jurong East.
Quality Assurance: KKKL stands out when it comes to punctuality, safety, and top-tier service. Their commitment to offering a tranquil journey, punctuated with exemplary customer service, makes them the preferred choice.
Affordability: Starting at just $33 per person, KKKL ensures the journey doesn't burn a hole in your pocket. However, fares may vary depending on the season.
Facilities Onboard: While the buses do not have toilets, rest assured there will be at least one stop for a restroom break. If there's an emergency, always inform the bus driver. Our buses come with USB charger as well as complimentary wifi
Bus Schedule: With the first "Singapore to Melaka bus" departing at 7 am daily, KKKL offers a robust schedule to cater to varying passenger needs. For detailed timings, their website offers comprehensive information.
Eco-Friendly Approach: Keeping in line with modern, sustainable practices, KKKL supports e-tickets. So, there's no need to print your ticket; just show it on your mobile device.
Conclusion:
Embarking on a journey from Singapore to Malacca? KKKL Travel & Tours ensures this experience is nothing short of exceptional. From the moment you board until you reach your destination, comfort, convenience, and quality service remain paramount. Let the adventure begin on the "bus from Singapore to Malacca".
Top 5 reasons why you should take bus from Singapore to Malacca
1. There is no other mode of transport from Singapore to Malacca. There is no train station or airport available in Malacca. Hence, the easiest and most convenient way is to travel by bus from Singapore to melaka.
2. The distance from Singapore to Malacca is only 4hours. So, taking a bus is much more economical than driving to Malacca
3. Malacca is not a very big city, most of the tourist attraction places is actually within walking distance to each other. For example, the walking time from jonker street to A Famosa is only 10 to 15 minutes.
4. During weekends, the traffic in Malacca is very congested. Many people from other Malaysia states will drive to Malacca for holiday. Most of the road in the tourist attraction area such as jonker street will be very congested.
5. Malacca bus terminal is one of the best terminal in Malaysia. Melaka Sentral is the 1st terminal in Malaysia having air conditioned. And also, the terminal have both domestic buses and inter-state bus, making it very convenient to travel around once you reach the bus terminal.
Pick Up Point

Destination

Time

Ticket Price

Singapore
Kovan Hub


Singapore
Katong V

Malacca
Malacca Sentral


Malacca
Hatten Hotel

0800hrs


0830hrs




S$28 (Malacca Sentral)


S$33 (Hatten Hotel)
---
Term & Conditions:
√ (*) Available on Friday/
√ Price subject to change without prior notice
√ Public Holiday Price/ Chinese New Years: Please check with front desk.
► Check/in 30 minutes before departure.
► No cancellation, change date is allowed, no refundable for
unused ticket.
► Passport validity 6 months above.
► Malaysia Visa (if required)