Enjoy the Only Bus Service Available from Singapore to Kuantan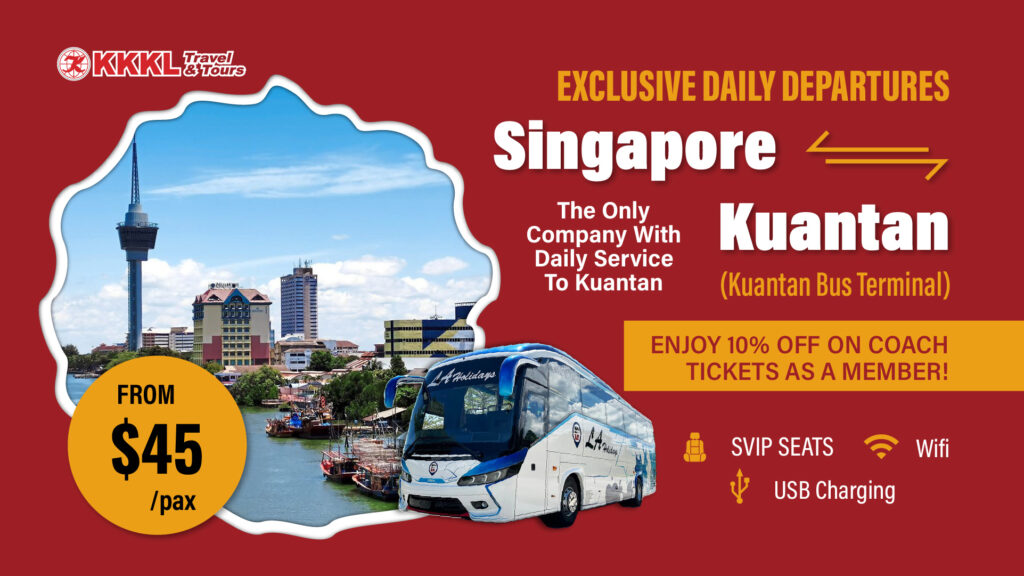 KKKL Travel & Tours offers daily buses from Singapore to Kuantan in partnership with LA Holidays Travel & Tours. The buses depart daily at 10 pm from Kovan and 10.30 pm from Katong V. LA Holidays provides a 27-seater super VIP bus with 3-in-a-row 1+2 seating. Singapore to Kuantan bus tickets are priced at $45 per way. The bus will travel along the east coast of Peninsular Malaysia via Kota Tinggi, Mersing (gateway to Tioman Island), Endau, Rompin, Pekan and finally, Kuantan. Passengers who would like to drop off at any of these locations can also purchase bus tickets. The journey by bus from Singapore to Kuantan takes around six to seven hours. However, due to the lack of a highway on this route, the journey may take slightly longer. Passengers are expected to arrive in Kuantan around 4 to 5 am, depending on the traffic and immigration clearance.
LA Holidays buses will take the Woodlands JB CIQ checkpoint as it is closer to the destination than the Tuas 2nd link checkpoint. Our company makes arrangements based on the best interests of our customers and the journey. As the coastal road to Kuantan is not a highway, passengers may experience a bumpy and winding ride. However, they may also be fortunate enough to see monkeys, chickens, cows, durian trees, palm oil trees, and rubber trees along the way. This will be a unique experience as it is not often possible to see such wonderful nature in Singapore.
Must-Visit Attractions While in Kuantan
If you are interested in visiting Kuantan, it is located on the eastern coast of Peninsular Malaysia. Kuantan has beautiful sandy and white beaches, big waves due to its location on the South China Sea, and delicious seafood. Here are some of the must-visit attractions while you are in Kuantan.
Teluk Cempedak Beach – One of the most popular beaches in Kuantan, Teluk Cempedak boasts crystal-clear waters, white sand, and lush greenery. Whether you want to take a dip in the sea, build sandcastles or just relax and enjoy the sun, this beach has something for everyone.
Cherating Beach – If you are looking for a beach that's less crowded, Cherating is the perfect place for you. Known for its picturesque scenery and serene ambience, this beach is a haven for nature lovers. You can also indulge in water sports like surfing and kiteboarding here.
Sungai Pandan Waterfall – If you are a fan of nature and waterfalls, then Sungai Pandan Waterfall is a must-visit attraction in Kuantan. This waterfall is located in a lush green forest, and the sound of cascading water is genuinely mesmerising. You can also take a dip in the cool and refreshing water here.
Bukit Pelindung – For a bird's eye view of Kuantan, visit Bukit Pelindung. This hill offers stunning panoramic views of the city, and it's a great spot to watch the sunset. You can also take a leisurely walk and enjoy the fresh air while taking in the beautiful scenery.
Sungai Lembing Mines – If you are interested in history, visiting Sungai Lembing Mines is a must. This former tin-mining town is home to the world's largest underground tin mine. You can explore the mines and learn about the history of tin mining in Malaysia.
Frequently Asked Questions
Where Does the Bus from Singapore to Kuantan Arrive?
The bus from Singapore to Kuantan will arrive at Kuantan Sentral Bus Terminal, which is located in the heart of Kuantan city. From there, you can easily access other parts of Kuantan city and explore its many attractions.
How Long Does the Singapore-Kuantan Bus Route Take?
The journey from Singapore to Kuantan by bus usually takes around six to seven hours. Since this route does not have a highway, the travel time may take slightly longer compared to taking highways.