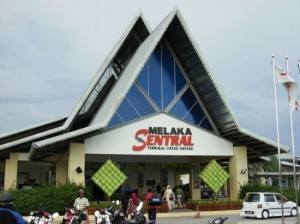 Melaka Sentral is one of the first integrated bus terminal in Malaysia that comes with air conditioned. Melaka Sentral is located at the heart of Malacca and is within walking distance to the biggest shopping centre in Malacca, AeonJusco and Tesco. Besides that, it is also a merely 10 minutes drive to Jonker Street. Jonker street is the main tourist attractions in Malacca.
Melaka Sentral is the integrated hub for local city bus and interstate express bus. There are total at least 20 express bus counters, at least 15 different bus companies at the bus terminal. The routes includes for bus from Malacca to Kuala Lumpur, Malacca to Singapore or Malacca to Penang. Taking bus from Melaka Sentral to some of the tourist destination such as Jonker Street or A Famosa is possible, with a merely fare of RM1.50 per trip. Kindly note that some less popular routes are served with irregular interval.
There are also other food stall and convenience stall selling in the terminal. It has Mcdonald, A&W restaurant and even 7-eleven convenient stall. If you would like to have some small bites before your trip, there is a bakery stall selling delicious bread.