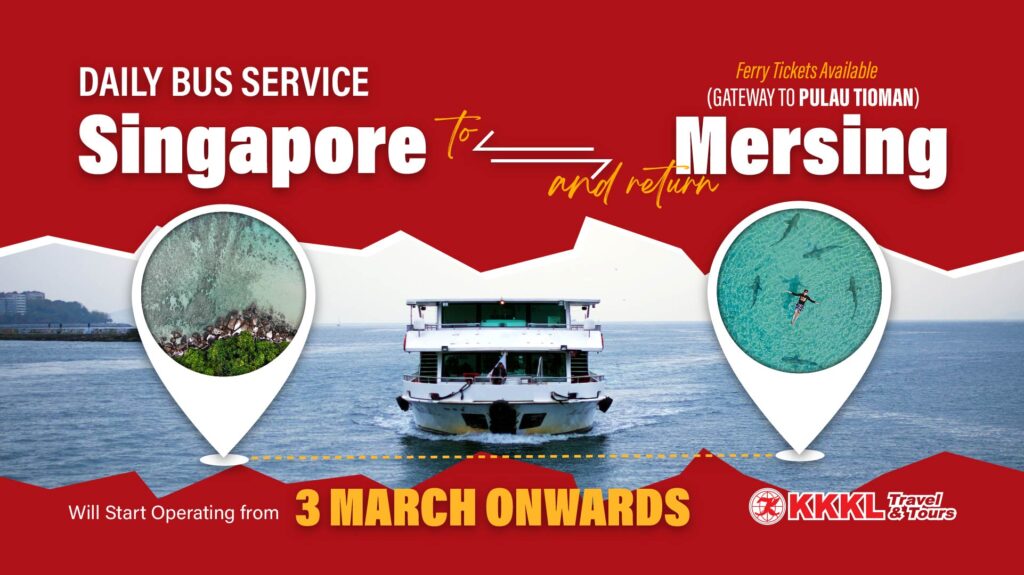 How to Get from Singapore to Tioman Island by Bus and Ferry
KKKL Travel & Tours offers a highly demanded bus service from Singapore to Tioman Islands, especially during school breaks or public holidays. Passengers can be dropped off at either Tanjung Gemok jetty or Mersing jetty. The journey via bus from Singapore to the Mersing jetty takes around three hours, while Tanjung Gemok jetty is only 30 minutes away from the Mersing jetty. For a more stable ferry schedule, we highly recommend passengers choose the Tanjung Gemok jetty as the ferry schedule there is relatively stable throughout the year, except during the monsoon season from September to February when all bus schedules are subject to change due to tide conditions.
KKKL Bus Boarding Points in Singapore
KKKL has two boarding points for the bus from Singapore to Tioman Islands:
Boarding Point
Image for Reference
Boarding Time
Remarks
Kovan Hub

6.00AM
Please wait at Kovan Hub bus terminal
Bugis MRT Exit D

6.30AM
Please wait at Bugis MRT Exit D taxi stand and look out for KKKL bus
Ferry from Tanjung Gemok to Tioman Island
If you decide to get dropped off at Tanjung Gemok, the KKKL bus will take you to Terminal Penumpang Tanjung Gemok. The journey from Singapore to Tanjung Gemok Jetty takes approximately three and a half hours, with the KKKL bus arriving around 10.00 am. This is especially convenient as the ferry from Tanjung Gemok Jetty usually departs around 11.00 am or 11:30 am, depending on the day and other factors.
Once you get the ferry ticket to Tioman Island, remember to get a boarding pass from the ticket counter. You need to hand over the boarding pass to the duty officer when you board the ferry.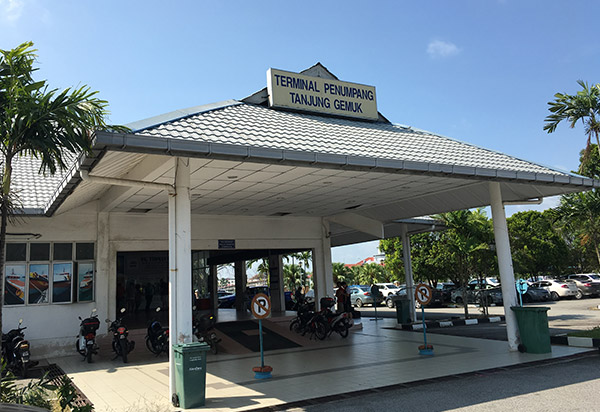 Tioman Island Resort
Your alighting point will depend on your chosen accommodation when you arrive on Tioman Island by ferry. There are several jetties to choose from, including Genting Jetty, Paya Jetty, and Tekek Jetty, as shown in the picture below. When buying your ferry ticket, make sure to specify which jetty you plan to alight at. Paya and Tekek Jetty are the most popular among travellers.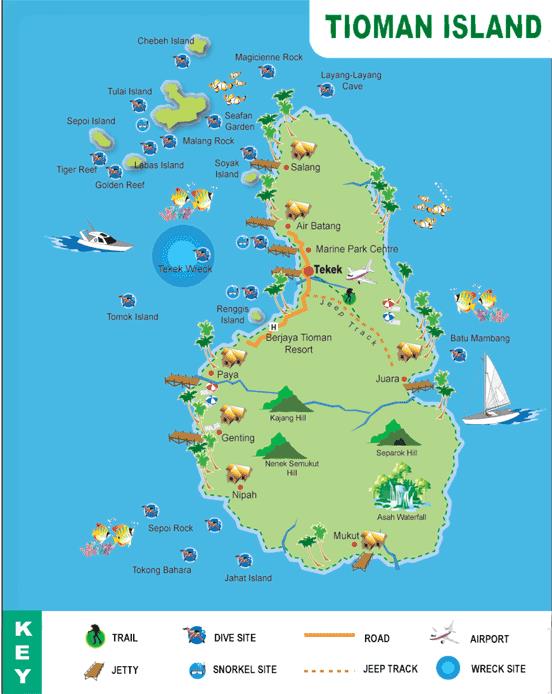 Tioman Island has a few jetties, each close to certain resorts or hotels in Tioman. Here are some of the best resorts on Tioman Island:
►Berjaya Tioman Resort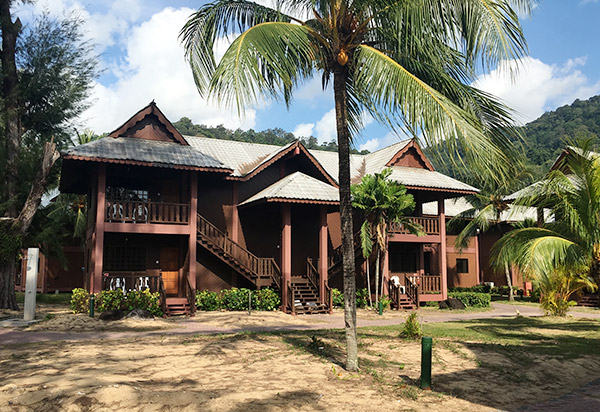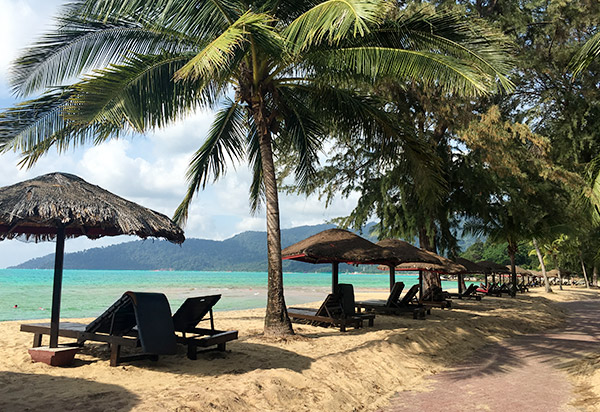 Berjaya Tioman Resort is one of the best resorts on Tioman Island. It offers traditional beauties of Malaysian-style architectural accommodations. If you choose to stay in Berjaya Tioman Resort, your alighting point from the ferry is at Tekek jetty. The resort has more than 200 rooms, and it is a highly recommended resort for couples or anyone who wishes to have a relaxing break from their work. The resort has beautiful sandy beaches, crystal clear seawater, and a spacious restaurant serving delicious food for you to enjoy your stay.
►Paya Beach Resort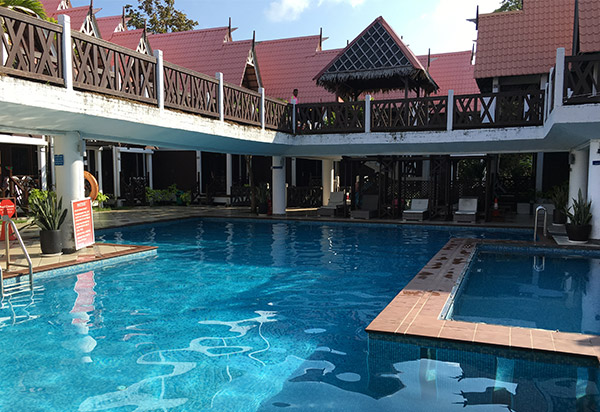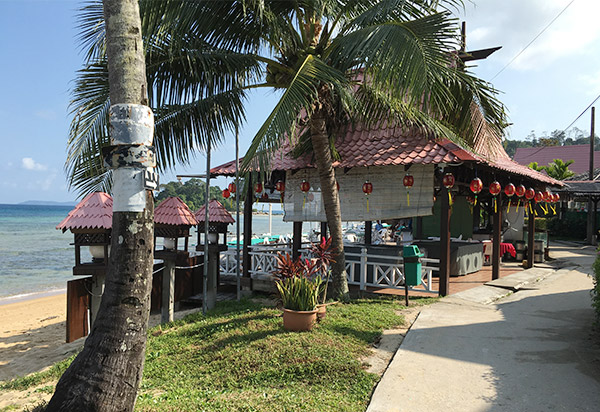 Paya Beach Resort is famous among visitors to Tioman Island. The resort sits by the beach and offers many exciting activities on Tioman Island such as spa, diving, snorkelling and jungle trekking. If you choose to stay at Paya Beach Resort, your alighting point from the ferry is at Paya jetty. The resort is within walking distance from the jetty. This resort has more than a hundred rooms and is famous for divers since the resort is just beside the beach. If you are a diving enthusiast, this resort is just the place for you.
What To Do on Tioman Islands?
• Diving
• Snorkelling
• Seafood Meals
• Shopping
• Relax
Famous things to do in Tioman Islands include diving and snorkelling. Diving when you are on Tioman Island is very easy, with many diving centres offering training and being able to guide you through the process. Apart from that, snorkelling on Tioman Island is also one of the best things you can do on this island.
Tioman Island charms all of its visitors with its clear water and even more wonderful discoveries underwater. It is definitely one of the best places to dive and snorkel in Malaysia!
Moreover, you can enjoy sumptuous seafood meals from many amazing restaurants around the island. Tioman Island is also a duty-free island, so shop all you want and get souvenirs for your families and friends.
On top of that, if you are not up to diving and snorkelling, you can just enjoy the beach, the breeze and the sound of the waves crashing on the shore. Having a relaxing break on Tioman Island and relishing in the breathtaking view is definitely rejuvenating.
What are you waiting for? Book your KKKL bus ticket and enjoy your amazing trip from Singapore to Tioman Island today! We provide a one-stop solution to you, from hotel packages where we can arrange hotel accommodation to ferry tickets as well as coach tickets. If you need more information, please feel free to call us at 62948909 or email your enquiry to kkkl.com.sg; our friendly travel consultant will assist you from there.
Frequently Asked Questions
How Do I Get from Singapore to Tioman Islands?
There are several ways to get from Singapore to Tioman Islands, but the most popular and convenient option is by taking a bus to the ferry terminal and then a ferry to the island. KKKL Travel & Tours is one of the reputable tour coach operators that offer this service.
How Long is the Ferry from Singapore to Tioman?
The journey from Singapore to Mersing Jetty takes around three hours, and from Mersing Jetty to Tioman Island, it takes around 1.5 to 2 hours by ferry. KKKL Travel & Tours will drop off passengers at Tanjung Gemok Jetty and Mersing Jetty. We highly recommend passengers drop off at Tanjung Gemok Jetty as the ferry schedule is more stable compared to the ferry schedule at Mersing Jetty.
How Long Does It Take to Get from Singapore to Tioman Island?
The travel time from Singapore to Tioman Island depends on the mode of transportation you choose. If you travel by ferry, the journey can take anywhere from 2.5 to 4 hours, depending on the weather and sea conditions. If you take a bus and then transfer to a ferry, the journey can take around 5 to 6 hours.