Discover the Charm of Penang Island with KKKL Direct Bus from Singapore to Penang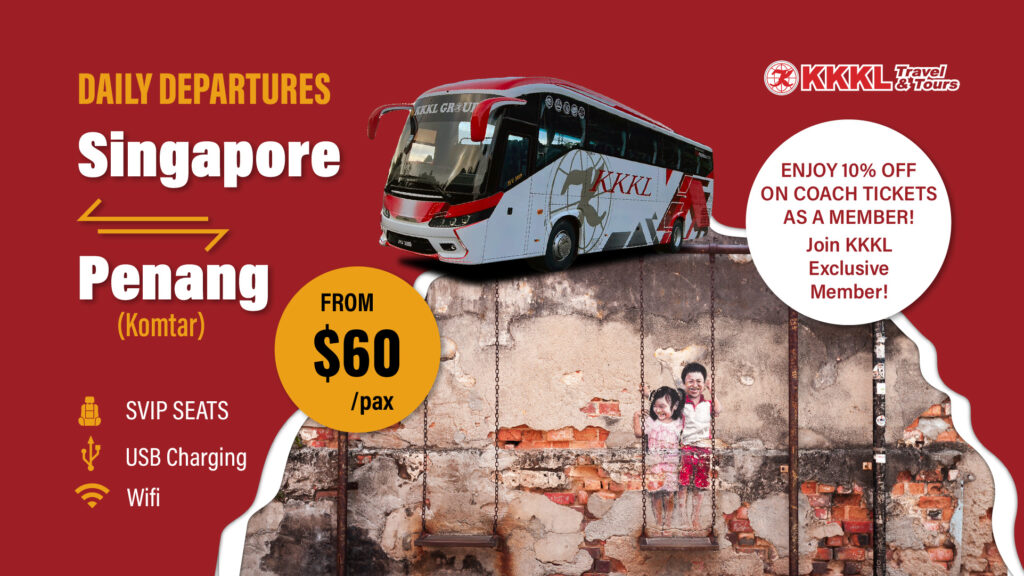 Setting forth on a journey to the enchanting Penang from the bustling city of Singapore? KKKL ensures a seamless experience for travelers with its daily bus from Singapore to Penang services. Your voyage will encompass both the terrains of inland Peninsular Malaysia and the picturesque Penang Island.
Commencing in Singapore, KKKL buses ensure convenient stops in strategic locations in Penang like Butterworth and Nibong Tebal. Factoring in traffic and immigration checks, the journey spans approximately 10 hours. To capitalize on smoother nighttime traffic, the bus from SG to Penang leaves at 9:30 pm from Kovan and then at 10 pm from Katong V. This impeccable timing ensures you reach Penang around 6 am, conveniently bypassing the Penang bridge's peak morning traffic.
The journey stretches further into Penang Island with two significant halts – the Sungai Nibong bus terminal and the vibrant Komtar Penang in the heart of Georgetown. Many travelers opt to disembark at Komtar Penang given its centrality and proximity to a myriad of hotels. However, for those looking to transit further, Sungai Nibong stands as an ideal juncture.
The Allure of Penang Island
A treasure trove for international retirees, Penang Island graces the top 15 spots on International Living's list of idyllic islands to retire. Its claim to fame is the rich tapestry of local foods, authentically preserved by the very hands that create them. Must-try hawker delicacies include:
Asam Laksa: A tangy, spicy broth with rice noodles, fish shreds, pineapples, and onions. The southern Malaysian variant, laden with rich coconut milk, deviates from this sour rendition.
Char Keow Teo: A noodle dish that celebrates the 'Wok Hei' – the authentic smokiness achieved through charcoal-frying, accentuated with bean sprouts and duck eggs.
Cendol: Penang's version of this popular Malaysian dessert stands out with its generously-sized red beans. The creamy concoction of green jelly, coconut milk, crushed ice, and the sweetness of 'gula melaka' is truly unforgettable.
Frequently Asked Questions
How long does the bus journey from Singapore to Penang take? Expect a span of around 10 hours on the bus from Singapore to Penang, contingent on traffic and clearance at immigration. The night departure times ensure an early morning arrival in Penang.
What's the best way to get from Singapore to Penang? Opt for a bus ticket from Singapore to Penang via KKKL Travel & Tours. Our service guarantees stops in key Penang locales, like Butterworth and Nibong Tebal, for an all-rounded experience.